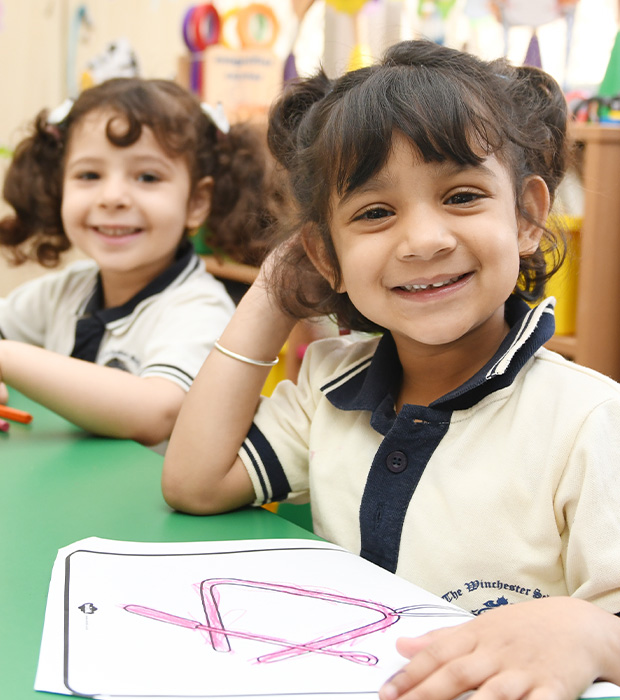 Admissions Process
Registration for the academic year 2022-2023 has closed. Based on ADEK policy, only overseas and other emirates students are eligible to apply for Term 2. Seats will be confirmed only based on availability at the time of registration. To contact the registrar, please send an email to [email protected]
Step 1 – Online Registration
To begin the application process, please submit your enquiry through the Enrol Online page.
Once you have completed the online application, you will receive an Enquiry number (SR Number). Please keep it for your records.
An acknowledgement email containing next steps will be sent to the email address you are provided.
Step 2 – Documentation
After receiving the acknowledgement email containing your SR number and a link to complete the profile, please follow the steps listed. Please upload the required documents listed below:
Emirates ID & Visa of sponsor (Both sides).

Parent (Sponsor) Passport.

Applicant's Photo.

Applicant's Emirates ID & Visa (Both Sides).

Applicant's Passport.

Applicant's Immunization Card.

Applicant Recent School Report / Nursery Report.

Transfer Certificate (if applicable. Attestations required from MOE/MOFA/UAE Embassy from transferred country).

Applicant Birth Certificate (Attested by the respective consulates and /or Embassies in the case of children born outside the UAE).

* Please Note: We will not be able to process your application if the documents are not uploaded in PDF format.

In the case of overseas transfer, the Transfer Certificate should also be duly attested by:
Official School stamp and Principal's signature.

Ministry of Foreign Affairs in the country from which migrating

UAE Embassy in the country from which migrating

Ministry of Foreign Affairs in Abu Dhabi
Step 3 - Assessment
Documents will be reviewed and invited for assessments based on the availability of seat. You will be notified via email regarding assessment.
Step 4 – Enrollment
Seats will be offered once available; Admission Department will contact you (email/phone) if a seat become available. You will receive an offer letter via email.
An online enquiry / registration does not automatically guarantee your child a seat. The school has the right to reject applications if the documents are not complete.
Screening & Assessments
Our school may choose to undertake screening and assessments to determine the right placement of an applicant. After a student has been registered and required paperwork submitted, students entering Years 3 to Year 9 may be asked to complete a placement test (CAT 4 Exam). Students entering Foundation Stage 2, Y01 and Y02 will meet in groups with a member of the educational team.

The screening and assessment of a student is set-up through the admission office and decisions are determined by the admission committee. After this step, a student may be offered a seat, placed on the waitlist, or denied.
Previous Schooling
All new students must provide official documentation of previous school experience, report card, and test scores. All documents provided must be in English. The school may request certification of translation from the Consulate of the country in which the student last attended to meet admission requirements.
Contacts
Please contact the school for any information.
GEMS Winchester School - Abu Dhabi
School Registrar, Ansu Annie
Admissions Secretary, Arlene Oyang
Parents Relation Executive, Dalia Marmoush
GEMS Enrolment Centre
600 56 7771 or +971 2 403 5499 (outside UAE)