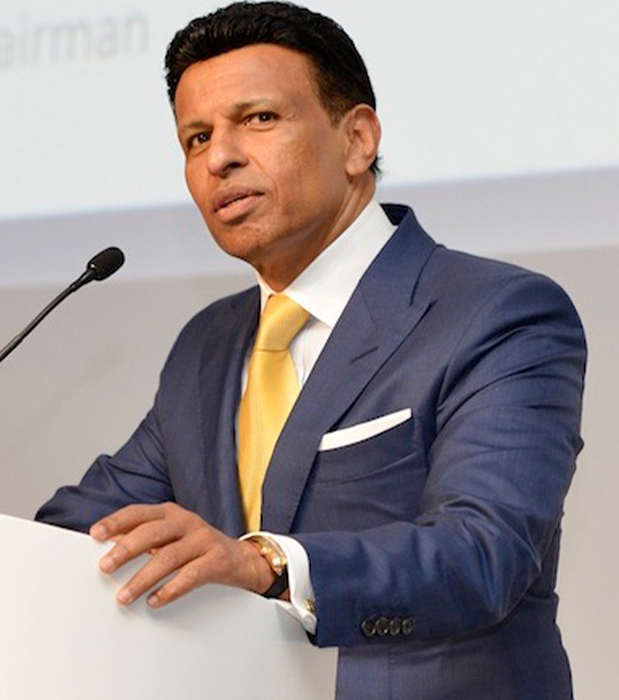 Sunny Varkey, Founder and Chairman, GEMS Education
Dear GEMS Families,
As 2021 gets underway, I am sure you share my hopes for a more settled and less uncertain year ahead, especially after one of the most extraordinary periods in our 61-year history at GEMS Education.
We have always taken great pride in the close partnership between our teachers and parents and students. It is thanks to the strength of this collaboration that we were able to continue delivering an outstanding education for our children last year despite the difficulties posed – and it will enable us to do the same long into the future.
You can rest assured that GEMS will always take every measure possible to ensure the health and wellbeing of our pupils and their teachers. We are prepared for all eventualities and are pleased to be able to offer all forms of education – in-school, blended classroom and home learning, as well as 100 per cent remote teaching. Our aim is to ensure our parents have the fullest choice possible depending on their preference while never compromising on our high standards.
Our ongoing investment in technology has enabled us to make this pledge, ensuring that our pupils receive the very best education not only today, but also long into the future.
One of our most important projects over the past year has been the widespread introduction and growing use of our Quality Assurance Programme, which has been expanded from a few select schools to right across the GEMS Education network.
This project is very close to my heart because it gives you, the parent, a direct line to your teachers and principals to offer us all your feedback and insights to help us lift standards even higher at our schools. I encourage you to take advantage of this facility so all can benefit from your thoughts, insights and ideas. I can promise you that each and every comment is read, well noted, and when necessary, acted upon with immediate effect.
As many of our long-standing parents will know, GEMS is anchored by our core values of kindness and respect, which we consider crucial attributes that will arm our students for the exciting – and challenging – future that is awaiting them. I have been delighted to witness our students' wonderful acts of kindness via the GEMS Jewels of Kindness and Respect campaign. Once again, without your support as parents, this initiative would not be the success it has become. I look forward to seeing further examples in the months to come of how the human values taught in our schools are reflected in our caring students.
Thank you again for your continued trust and support for your school and its teachers, which I believe has become stronger than ever in these challenging times. The two-way respect between teacher and family will continue to take us to exciting new heights in a world that remains full of opportunities for our next generation of change-markers and leaders.
My family and I wish you all a safe and fulfilling year ahead.
Sunny Varkey

أولياء الأمور الأعزاء،
أنا على يقين بأنكم تشاطرونني آمالي في أن يكون العام الحالي 2021 أكثر استقراراً وأقلّ غموضاً، خصوصاً بعد انقضاء عام حافل واستثنائي في مجمل تاريخنا الذي يقارب الـ61 عاماً.
لطالما أعربنا عن فخرنا العميق بالشراكة الوثيقة بين معلمينا وأولياء الأمور والطلاب. وتمكّنا بفضل هذا التعاون المتين من مواصلة تقديم تعليم متميز لأطفالنا خلال العام الماضي على الرغم من التحديات التي واجهتنا، كما سنستمر في مهمتنا هذه على المدى الطويل في المستقبل.
ويمكنكم أن تطمئنوا بأننا نتخذ دائماً التدابير اللازمة لضمان صحة طلابنا والمعلمين ورفاههم، كما أننا مستعدون لجميع الاحتمالات. ويسرنا أننا قادرون على المضي في مهمتنا من خلال توفير سبل التعليم كافة بأعلى المعايير سواء داخل الحرم المدرسي أو من خلال دمج الفصول المدرسية والافتراضية أو اتباع نموذج التعليم عن بعد بنسبة 100 في المائة، وذلك بهدف إعطاء خيارات متعددة لأولياء الأمور .
ساهم استثمارنا المستمر في التكنولوجيا من تحقيق هذا الهدف بما يضمن حصول طلابنا على أفضل تعليم اليوم ومستقبلاً. ويعتبر برنامج ضمان الجودة الذي بدأنا باعتماده على نطاق أوسع ليشمل شبكة المدارس التابعة لمجموعة جيمس للتعليم أبرز المشاريع التي أنجزناها العام الماضي.
هذا المشروع عزيز على قلبي لأنه يفسح المجال أمامكم كأولياء أمور للتواصل بشكل مباشر مع المعلمين والمديرين وإيصال أفكاركم وآرائكم، وبالتالي مساعدتنا على الارتقاء بالمعايير التي تعتمدها مدارسنا. وأؤكد لكم أننا نأخذ تعليقاتكم وملاحظاتكم كافة بعين الاعتبار، كما نتخذ الإجراءات اللازمة عند الضرورة.

وكما بات معلوماً للذين واكبوا مسيرتنا الطويلة، فإن مجموعة جيمس للتعليم ترتكز على قيم رئيسة وهي اللطف والاحترام التي نعتبرها سمات أساسية ستسلّح طلابنا للمضي في المستقبل المليء بالتحديات والتشويق. وشعرت بسعادة غامرة حين اطلعت على المبادرات الرائعة التي أطلقها طلابنا في إطار حملة جيمس لأعمال العطاء والاحترام.
ولم يكن لهذه المبادرات أن تحقق نجاحاً من دون دعمكم كأولياء أمور، كما أتطلع إلى مزيد من النجاحات في الأشهر المقبلة، وذلك بهدف تسليط الضوء على انعكاس القيم الإنسانية التي تدرّس في مدارسنا على الأعمال التي يقوم بها طلابنا.
أشكركم مرة أخرى على ثقتكم ودعمكم لمدرستكم والمعلمين الذين أصبحوا أقوى من أي وقت مضى في ظل الظروف الصعبة التي نمر بها. وهذا الاحترام المتبادل سيساهم في الارتقاء بنا إلى عالم لا يزال مليئاً بالفرص للأجيال القادمة وصانعي التغيير وقادة المستقبل.
لكم مني ومن عائلتي تمنيات بعام يحمل لكم الصحة والأمان والإنجازات،

صني فاركي